After nearly seven years as a professional home stager in the Twin Cities of Minneapolis and St Paul, I have seen more than my share of out-of-date lighting fixtures.   I am no spring chicken either…so I likely grew up in homes that had some of the fixtures that I now see in clients homes. I am grateful that I have blocked out those memories.  No use taking up valuable real estate in my brain with visions like that!

The double swag light fixture is my least favorite of all of the styles that came in to vogue between 1960 – 2000.  It is so distracting to potential buyers that I beg my staging clients to remove it. (By the way, I found this one on ebay and  the bidding price  is currently at $99. Bonus,  you can pull it down, replace it with something that most  buyers will like and maybe even come out ahead!)
Here is what I have learned..  My staging clients don't like the swag fixture either.  So why haven't they changed it before now? They don't know what to replace it with. This is where investing in the services of a professional home stager pays off.  It is easy to tell people to get rid of something… it takes a bit more expertise to be able to tell them what to replace it with.
I am a big believer in the adage, "a picture is worth a thousand words".  Often after I leave a staging consultation I sit down at my computer the minute I get home, open up a link to one of the big box stores, copy a picture of a light fixture that will appeal to buyers, and email it to my clients.
I find that clients are very happy to do the work and spend the money if I can get them on the right track.  Here is what I would recommend as a replacement for the swag fixture.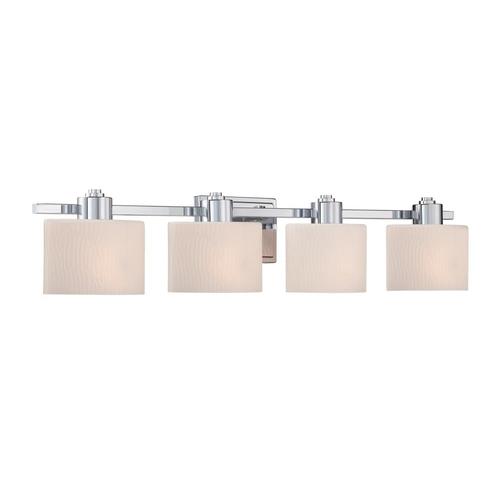 In this case, we can see from the picture above that the walls have been painted a nice neutral sage green.  I am not able to see what the finish of the other fixtures in the room are, so I am going to make the assumption that they are chrome.  I also see that the energy source is on the wall (some are on the ceiling and that makes a big difference).
This light fixture  would be perfect.  It is affordable ($110 at Lowe's), it matches the other hardware in the bathroom (chrome), it will give off great light (home buyers love bright spaces), and it is nondescript enough that it will appeal to almost everyone.
If I were asked to provide a list of what a home seller with a tight budget should invest their money in I would list the following:
Hire a professional house stager.  He or she will help you make the most of what is already available at the property and to help you most effectively spend your limited budget  on things that will bring the biggest payback.  A home staging consultation is very affordable.  I charge my twin cities clients $150 for the consultation
Replace dated light fixtures, paying special attention to the fixture on the porch, the foyer, the dining room and the bathrooms.  If you shop the big box stores and pay attention to sales you can get a lot of light fixtures for just a couple hundred dollars.
Clean and de-clutter the rooms of the house and wash the windows.
Paint any room that is either to0 taste specific or too banged up for a prospective buyer to get past.  If you are able to do the painting yourself the investment is really pretty small, and the payback can be pretty big.
If you would like more information about getting your property ready to sell you can download my free home staging e-book.  It is filled with good information about selecting the right real estate agent, high impact/low cost updates for your home, and guidance on pricing the property correctly from the get-go.
If you live in the Twin Cities and would like help with your property you can call me at 651.587.5887.